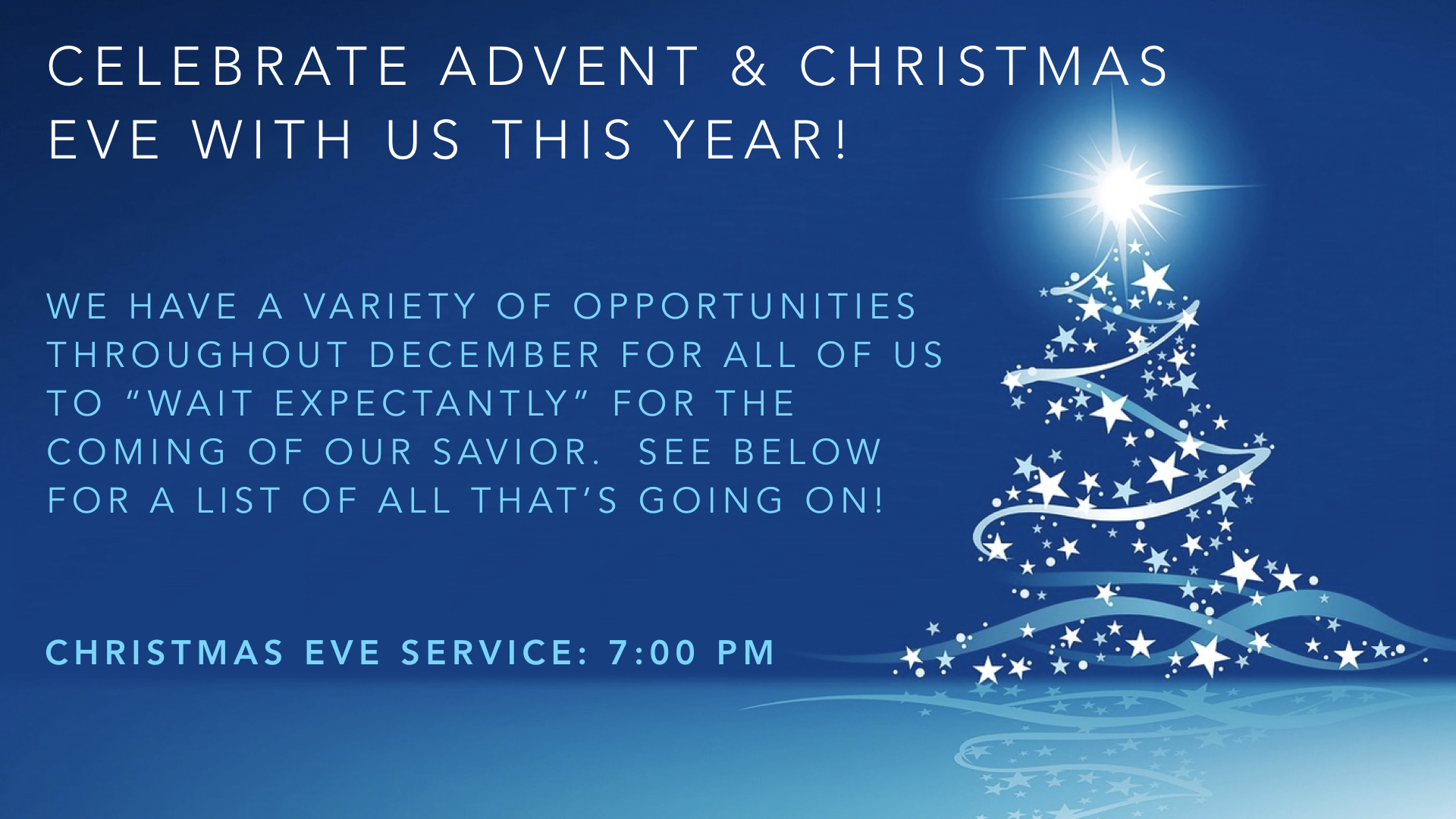 Advent Sermon Series
The Christian calendar begins, not with January 1st, but instead with the first Sunday in Advent. It's an interesting decision that the early church fathers made in doing this. Interesting because the Christian year begins not with resolutions and activity, but with waiting. Advent is an intentional season of preparation and pause, a time to reflect and prepare for the celebration of the coming of the Lord's Messiah, Jesus Christ. There is great wisdom in this decision, particularly for our current times. We live in a culture of hurry and rush and activity, the last thing we want or like to do is wait for anything.
By starting the year with a season of waiting, we are invited to settle into a different rhythm of life and living, a rhythm that is ultimately about trust. Trusting in the God who created Time, trusting in the One who has set His plans in motion and will see them through, trusting that there is One who knows and understands more than we do, trusting that He is good and that He is love. Join us as we 'wait expectantly' this Advent Season.
If you've missed any of the series, you can find past sermons
here
.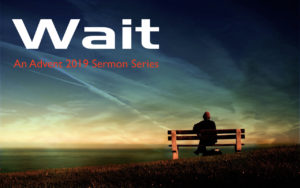 Christmas Decorating – Saturday, November 30, 9AM-Noon
It's that exciting time of year when we dress up our homes for Christmas. And, we also delight in being able to dress up God's house, too. We would love for you to join us Saturday, November 30, from 9am – noon (or whenever during that time you are available), as we put up beautiful trees, candles, wreaths, banners, and more! Hope to see you there.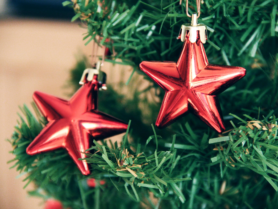 First Sunday in Advent – Sunday, December 1, 11AM
We kick off the season of Advent with a wonderful worship service in which we light the first candle of the advent wreath, and celebrate the Sacrament of Communion.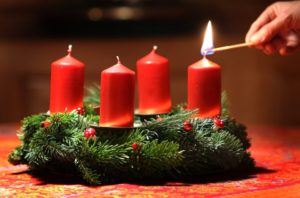 Ring the Salvation Army Bell – Saturday, December 7, 10AM-2PM
Join us at Food Lion in Amelon Square in Madison Heights from 10:00AM-2PM as we ring the Salvation Army bell. When you volunteer to bell ring or give at a red kettle, you help improve, and even save lives. The money dropped in a kettle goes right back into your local community.
By now you've likely heard that two hours of time ringing at a Salvation Army red kettle raises about $60 in donations. So where does that money go? Good question!
Every day of the year The Salvation Army provides basic needs, housing, youth services, rehabilitation, and counseling and spiritual care to people in the communities we serve. The Salvation Army is also often the first to arrive and the last to leave during times of disaster or crisis.
Second Sunday in Advent – Sunday, December 8, 11AM
Join us for worship on the Second Sunday in Advent as we light the 2nd candle of the advent wreath.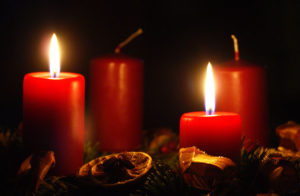 Christmas Cantata – Sunday, December 8, 4 PM
The Northminster Evangelical Presbyterian Church choir will present the original cantata Songs of Advent, Old and New at 4:00 on Sunday, December 9, at Northminster.
The cantata includes readings from Isaiah's prophecies of the coming Messiah and songs about Jesus' advent from Luke 1-2. The first half of the cantata will feature four hymns based on Isaiah's prophecies, using hymn tunes dating as far back as the Renaissance. For the cantata's second half, Tim Mills has composed original settings of the songs, recorded in Luke's gospel, that were sung by Mary, Zechariah, the angels, and Simeon.
Members and friends of the congregation are encouraged to join us as we celebrate the season in song. Following the cantata, all are invited to stay for a reception hosted by the Fellowship Committee.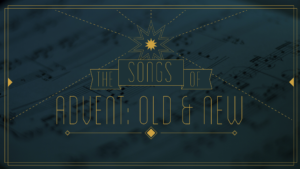 Third Sunday in Advent – Sunday, December 15, 11AM
For the Third Sunday in Advent, we will celebrate with the lighting of the 3rd candle of the Advent wreath. Additionally, the children will perform their Christmas program during the worship service. This year's program has been written by our very own Christy Sechler and features the children of the church performing, singing, and speaking.
Following worship, join us as we throw a birthday party for Jesus in the Fellowship Hall!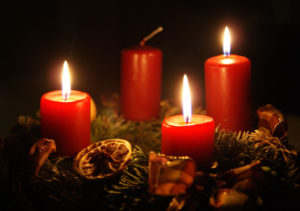 Youth Ministry Christmas Celebration – Sunday, December 15, 6 PM
All students in 5th through 12th grade are invited to join us as we celebrate the season with crazy Christmas games, fun activities, a message reminding us of why Christmas matters, and, of course, a 'white elephant' gift exchange! Each student should bring a gift (the crazier the better, but keep it under $5…and yes, the sweater grandma gave you last Christmas is perfect for a white elephant gift exchange!). As always, we'll wrap up by 7:30. We'll see you (and we hope you'll bring a friend, too) there!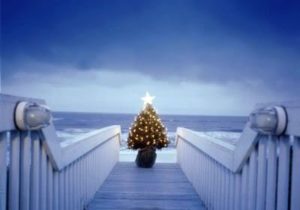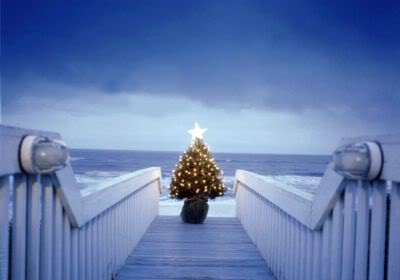 Fourth Sunday in Advent – Sunday, December 22, 11AM
For the fourth Sunday in Advent, we will celebrate with the lighting of the 4th candle of the Advent wreath.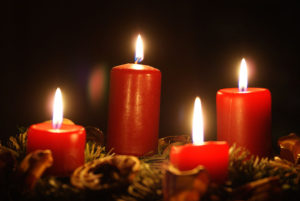 Christmas Caroling – Sunday, December 22, 4:30-7:00PM
Join us for our annual tradition of going caroling in our neighborhoods and visiting our homebound members. We'll divide up into groups, then come back to church and warm up with some delightful hot chocolate and wonderful fellowship. This is a great opportunity for folks of all ages to come together as we spread some Christmas cheer!
Christmas Eve Service – Tuesday, December 24, 7:00PM
On Christmas Eve, we invite you to join us for a family-friendly candlelight service celebrating the birth of our Savior, Jesus Christ. This service of song, carol and Scripture provides a wonderful opportunity to get a sense of how eager the Hebrews were for the coming of the Messiah so long ago, and reminds us how eager we are for his return. We look forward to seeing you there!