Any and all youth in Middle (6th-8th Grade) and High School (9th-12th Grade) are welcome to come and check out Northminster Student Ministries. Sunday School is on Sundays at 9:45am, where we dig into the Bible to learn more about how God's Word relates to our lives.
Sunday evenings is Sunday Night Live, a fun time of games, bible study and fellowship. Join us at 6:30pm, and we'll wrap up by 7:45. We look forward to seeing you there!
Scroll down for our current series, youth ministry news and announcements and why we do what we do.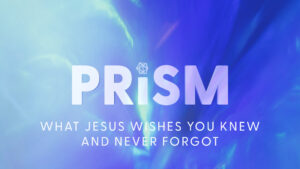 Prism
What is the Gospel? And is there a chance we've only looked at all it has to offer from only one angle? The word "Gospel" means "good news," but hearing something is good and knowing WHY it's good are two very different things. In this series, as we take a closer look at the life, death, and resurrection of Jesus, we'll find that the Good News of Easter may be bigger, bolder, and better than we ever imagined, and in doing that, discover a new way of engaging Jesus and five things He doesn't want any of us to forget.
April 3: You can be close to God
April 10: Palm Sunday — No Youth Group
April 17: Easter Sunday — No Youth Group
April 24: You can be part of making wrong things right.
Join us @ Sunday Night Live, Sundays, 6:30 PM
Youth Ministry News & Announcements
About the Youth Ministry

We are committed to building relationships with students and sharing our lives and Christ with them. We are focused on proclaiming the full Gospel of Jesus Christ, equipping parents as the primary ministers to their children, and building relationships between all generations in the church.
Here's what each part of our purpose statement means:
To EXPOSE youth and their families to the joy of a relationship with Christ.
Jesus said that he came to give us life, and to give it to the full (John 10:10), and in Matthew 28:19-20, he gave us the great commission to "go and make disciples of all nations." So one of my youth ministry goals is to present the good news of the gospel, the joy that comes from knowing Christ, to youth and their families who have never heard it before, that they may know the abundant life that God intends for them. We seek to accomplish this goal through two avenues: 1) Special events and occasional youth group meetings geared toward presenting the gospel, and 2) programs intended specifically for parents.
To CONNECT them with other believers.
Without a doubt, it is hard to survive in this world, especially if you're trying to do it alone. Christ never calls us to follow him alone, He encourages us to connect with another believer to provide accountability, support and friendship. One of our goals is to connect youth to the extended church family, other believers their own age, and an adult mentor.
To EQUIP them to grow in their faith.
None of us will love God perfectly in a day, or a year, or even a lifetime. It's a process that we grow in through consistent fellowship with other Christians, study of God's Word, prayer, challenge, etc. Through our youth group programs, Sunday Schools, small group Bible studies, and one-on-one discipleship, it is my prayer that the youth will grow in their commitment to and knowledge of God.
To PROVIDE them with opportunities to serve others in Christ's name.
I think it was St. Francis of Assisi who once said, "Share the gospel, and when necessary, use words." This has almost become cliché, but there is a powerful truth there. We proclaim the gospel as much through our actions as we do through our words. I want to help kids discover their gifts and talents and help them to use those gifts and talents in the world to bring God glory. This is done by giving the youth leadership responsibility of their own, taking them on mission trips to help them discover their gifts and to what career God might be calling them. Through monthly service projects, through summer mission trips, the youth here have the opportunity to proclaim God's love to the world.
In order to GLORIFY God in their lives.
This is simply a reminder of why we are in youth ministry in the first place, and what we are about in life! Ephesians 3:20-21 has become my youth ministry theme verse. "Now to him who is able to do immeasurably more than all we ask or imagine (VISION!), according to his power that is at work within US (POWER!), to him be the glory in the church in Christ Jesus throughout all generations, forever and ever, Amen. (PURPOSE!)"